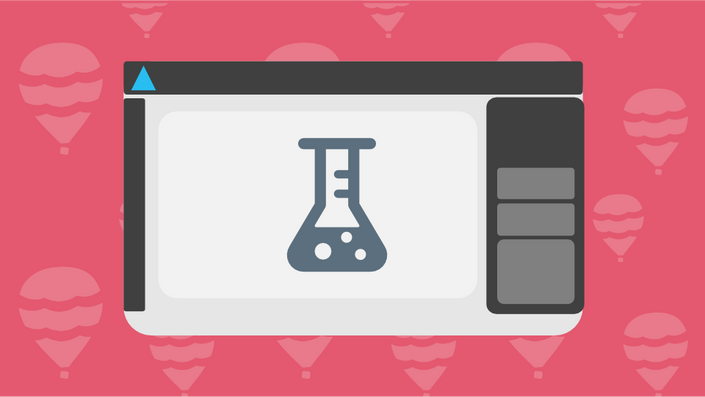 Affinity Designer for Academics, Scientists, and Researchers Course Page
Get started with making your own practical visuals & materials in Affinity Designer!
Does any of this sound familiar?
Have you ever...
❌ Wanted to add a visual, but didn't have one to use, so you left it as text.

❌ Used a visual online that you didn't love, because it was the best you found online.

❌ Been frustrated because the software/app wouldn't let you put objects exactly where you wanted them, or other objects started moving around on you because you were re-arranging things.

❌ Felt limited because the software/app wouldn't let you apply the specific type of design or style you wanted.

❌ Worried that your visual wasn't designed well and looked outdated, or like it was obviously made in like PowerPoint (e.g., SmartArt).

If so, then it's time to consider learning how to make your own visuals using professional design software.

This course has 5 projects that you can complete in 5 hours. Plus, it has 28 bonus technical training videos on the best and most useful Affinity Designer tools and features.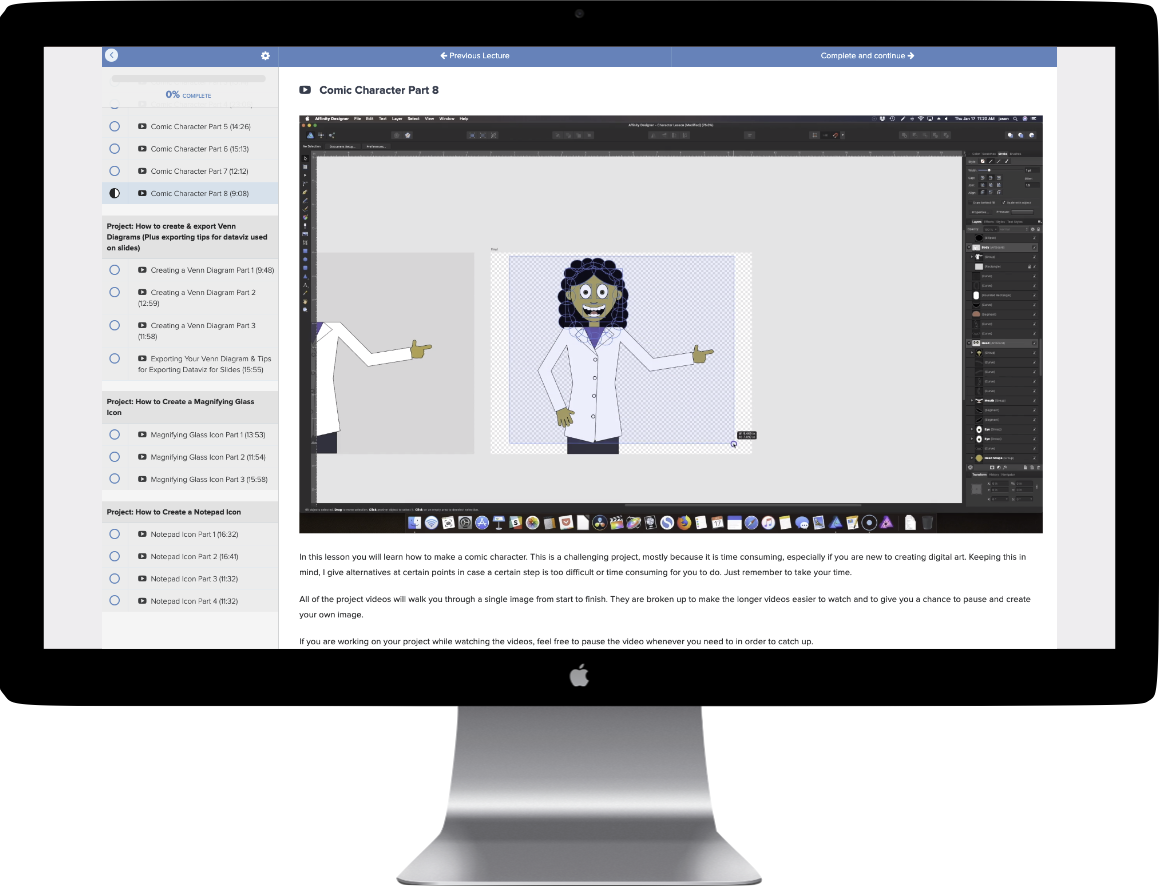 These projects were specifically designed to teach you a wide range of Affinity Designer AND graphic design/illustration skills while completing the project. That means not only will you create 5 digital visuals, but you'll also learn design tips & technical skills along the way to apply to your own projects. in the future!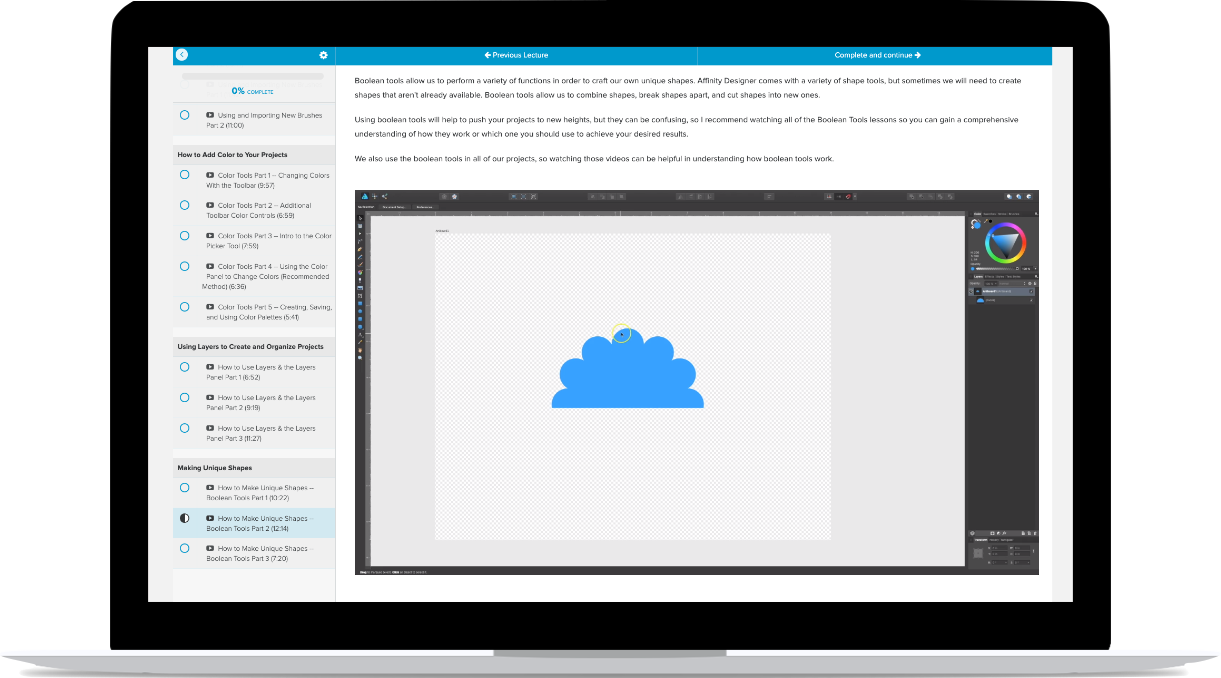 The course includes 5 projects and walks you through how to create:

A beaker icon
A magnifying glass icon
A notepad icon
People/Avatar/Characters
A customizable Venn Diagram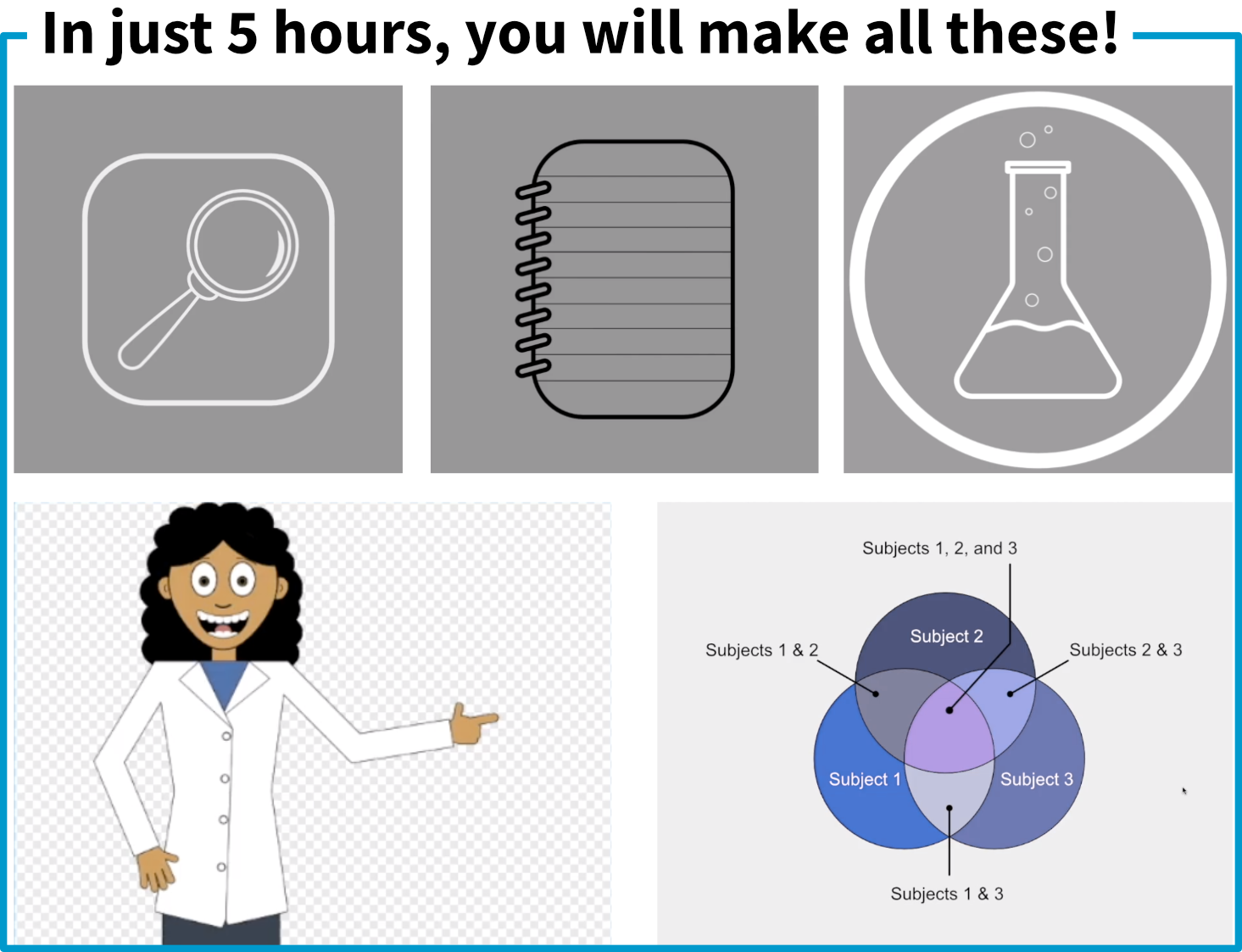 In just 5 hours, you're going to go from zero Affinity Designer skills to creating people illustrations and models! 🥳
Don't need these EXACT visuals? That's fine, because that's not the point of the course anyway 😉
This course was made specifically for academics, researchers, evaluators (and similar professionals!).
The purpose of this course is to help you develop PRACTICAL skills that will help your research work and teaching materials (especially your presentations) be more visual, engaging, and effective.
What does that mean? How did we do this?
(1) When creating this course, we asked ourselves "What would academics, scientists, and researchers use Affinity Designer for?" And we came up with this list:
Models (e.g., logic, theory of change, scientific, or theoretical models).
Processes & Flow charts (e.g., your mixed method data collection and analysis approach).
Visual abstracts about your publication, report, project, or presentation.
Infographics and visual summaries of your material, publication, or project. This also includes graphic representations of info in your reports.
Conference posters (PowerPoint limits your ability to make visually engaging and effective posters, you can make some truly great ones using design software, though!)
Flyers (e.g., to recruit participants, get the word out about your seminar).
Survey response options (e.g., maybe you want to visually show participants the relative difference between "agree" and "strongly agree" in your survey).
Sketches or drawings of a concept that you teach or present.
Comics or cartoons (research shows this is an effective way to share complex info).
Logos for your lab/research team website!
Custom icons for just about anything else you create (e.g., slides, handouts, flyers).
Social media graphics for Twitter, Insta, LinkedIn, Facebook to promote your work, project, report, publication, blog post, video, and more.
Custom thumbnails for your video (because apps always choose the worst moment of your video! Ugh!).
Info/contact cards (e.g., to provide organizations helping you recruit participants, so they can give it to their clients interested in participating in your study). This of course could also include business cards.
Stickers & buttons to build your network or promote your work, material, publication, or project. (I use a sticker instead of a business card).
👉 Notice we didn't include things like "murals" or "pieces of art worthy for the gallery" or "concept pieces for an upcoming animation-based movie" or other things completely impractical to your work.

(2) Then we asked ourselves, "What are the foundational design & technical skills they would need to be able to create those kinds of things in the future?"
And that was how we chose the course content.
The projects and technical training videos, in combination, cover the foundational techniques you will need to create whatever it is that is most relevant to your work. We focused on the tools that would help you create practical materials, and only included training on the core tools & features you would need to know to create things relevant to your work.
So while there isn't a specific lesson on things like "how to create an infographic," you'll learn how to use all the tools that you use to create an infographic.
Which path works best for you when learning new software/apps?
1. Start with projects where you create something, learning along the way.
2. Start with technical videos that show how to use ALL THE TOOLS and features.
Good news: it doesn't matter which one you chose because the course is structured so you can do either one!
---

When you login, you'll see two categories: Projects & Activities and Technical Lessons. If you chose #1 from above, then you'll start with the projects. If you chose #2 then you'll start with technical videos.
And, if you ever want to switch it up, you can do that too!
For example, if you start a project and want to learn more about a specific tool or feature that was mentioned, then hop over to the "technical trainings" section to watch an in-depth video about that tool.

Or, if you start with the technical trainings and decide you're ready to start a project, then hop over to the "projects" section and get going!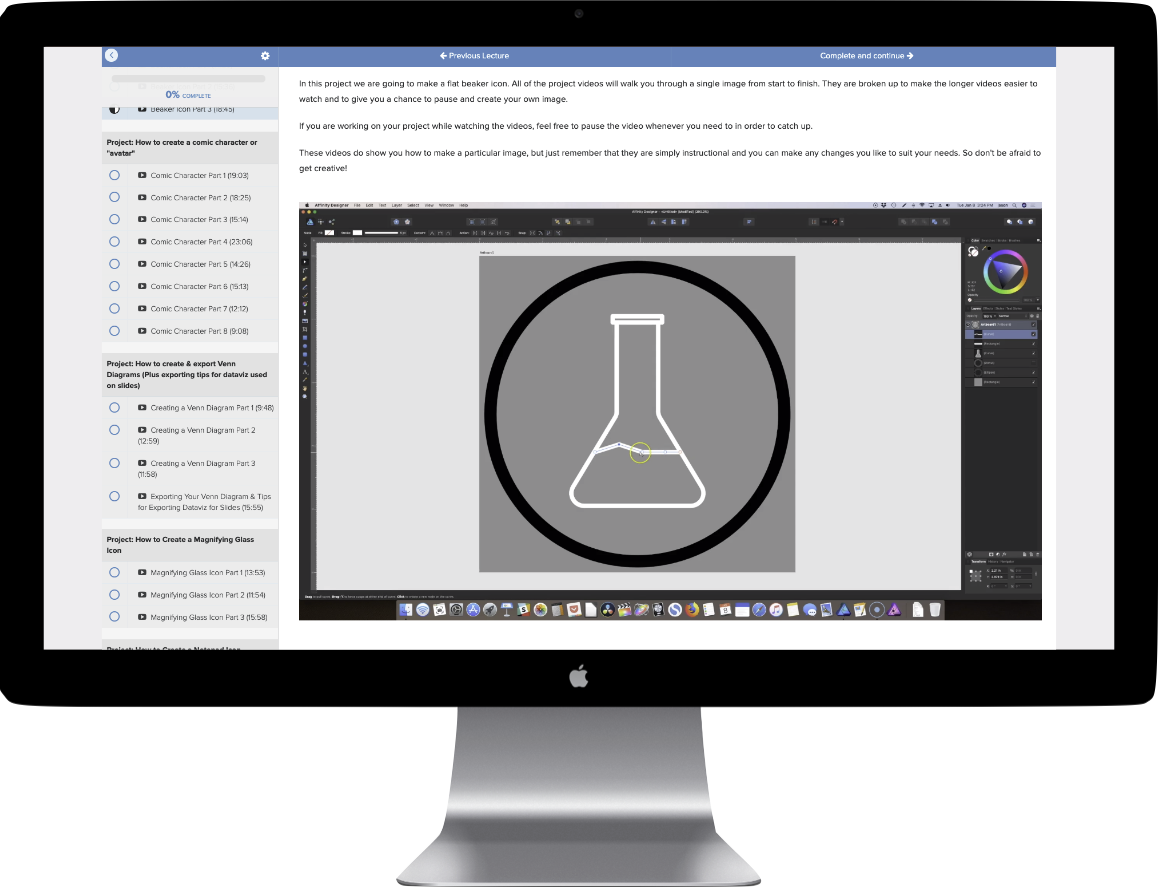 Each project takes between 40 minutes to 1.5 hours to complete, and are broken down into smaller chunks to make sure you can follow along.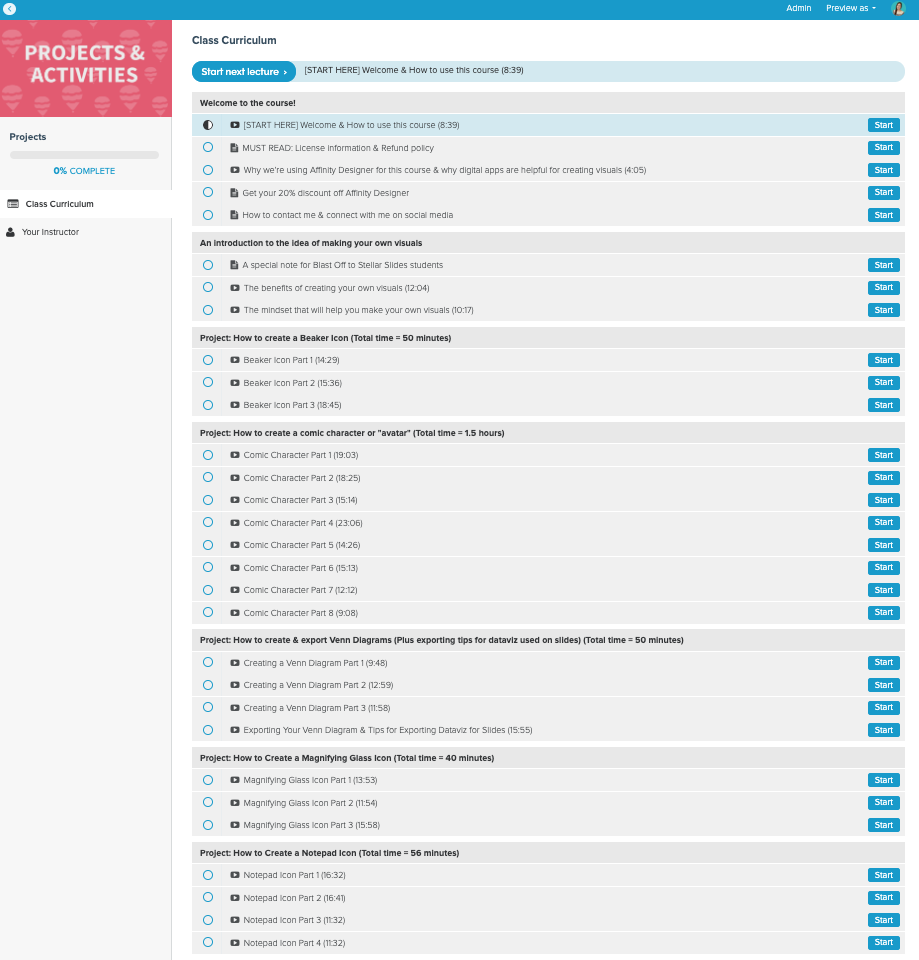 And as a reminder, the projects include technical AND GRAPHIC DESIGN tips along the way.

---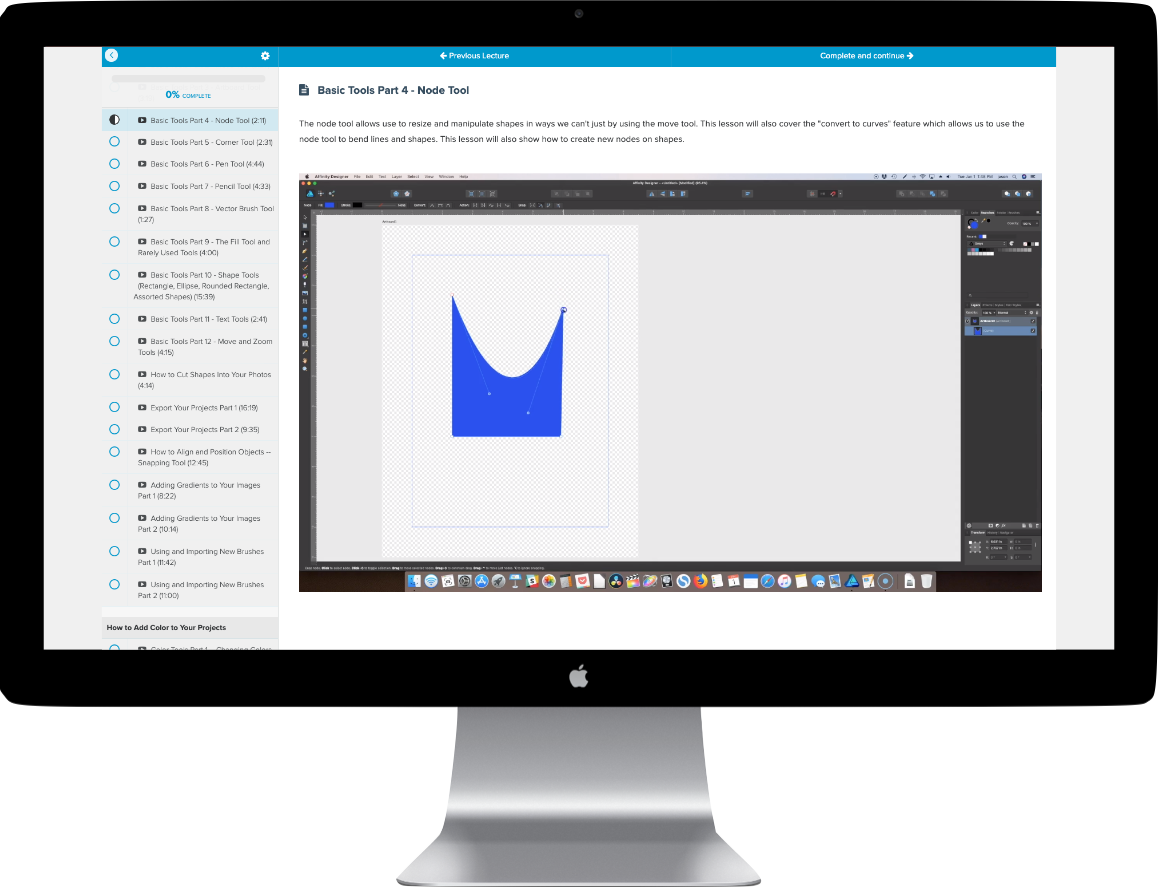 As for the technical lessons, look at all the different tools and skills you're going to learn!
Getting started with Affinity Designer
How to set up Designer
AD Preferences Menu
Creating multiple artboards
Personas
Move Tool
Artboard Tool
Node Tool
Corner Tool
Pen Tool
Pencil Tool
Vector Brush Tool
Fill Tool
Shape Tools
Text Tools
Move & Zoom Tools
How to cut shapes in photos
Exporting your projects
Align & position objects with snapping
Using gradients
Using & importing brushes
Changing colors with the toolbar
Additional toolbar color controls
The color picker tool
Using the color panel
Creating, saving, and using color palettes
How to use layers & the layers panel
How to make unique shapes – Boolean tools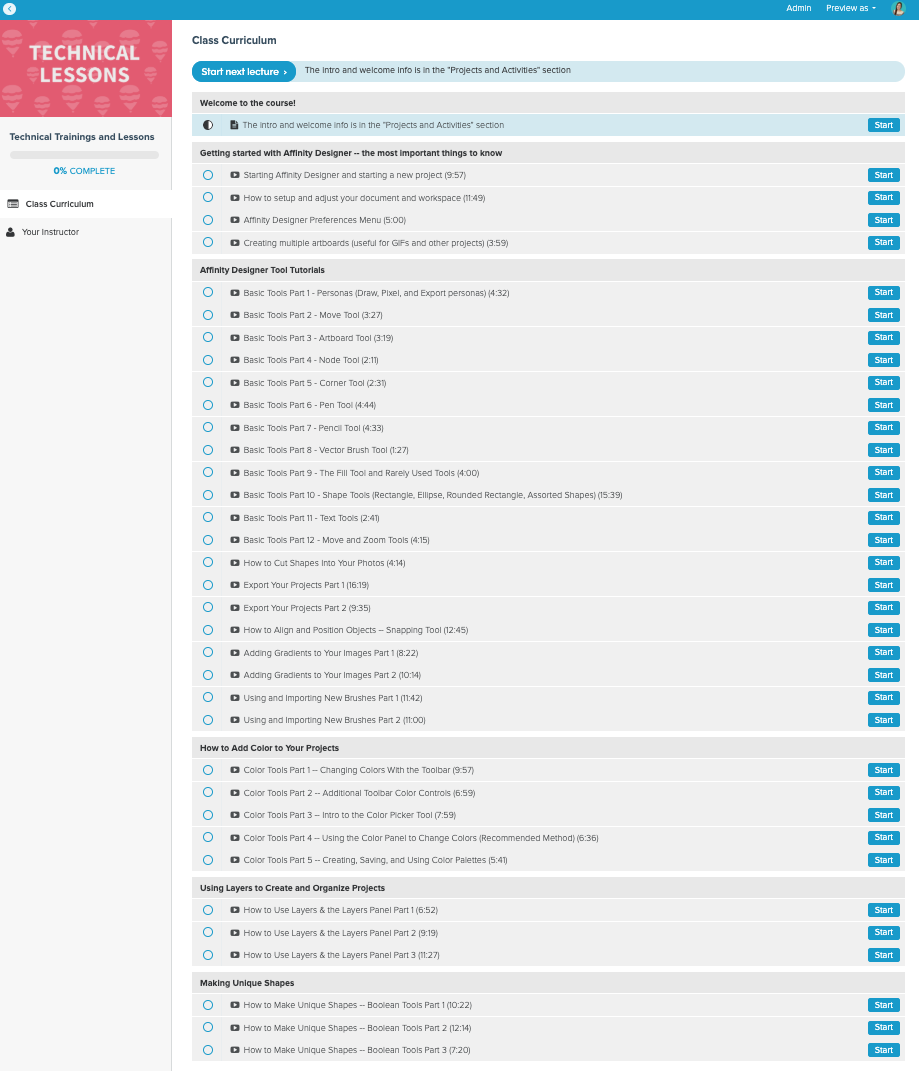 IMPORTANT...you will need Affinity Designer for this course!
But don't worry, it's super affordable AND you get a special 20% discount when you enroll in the course.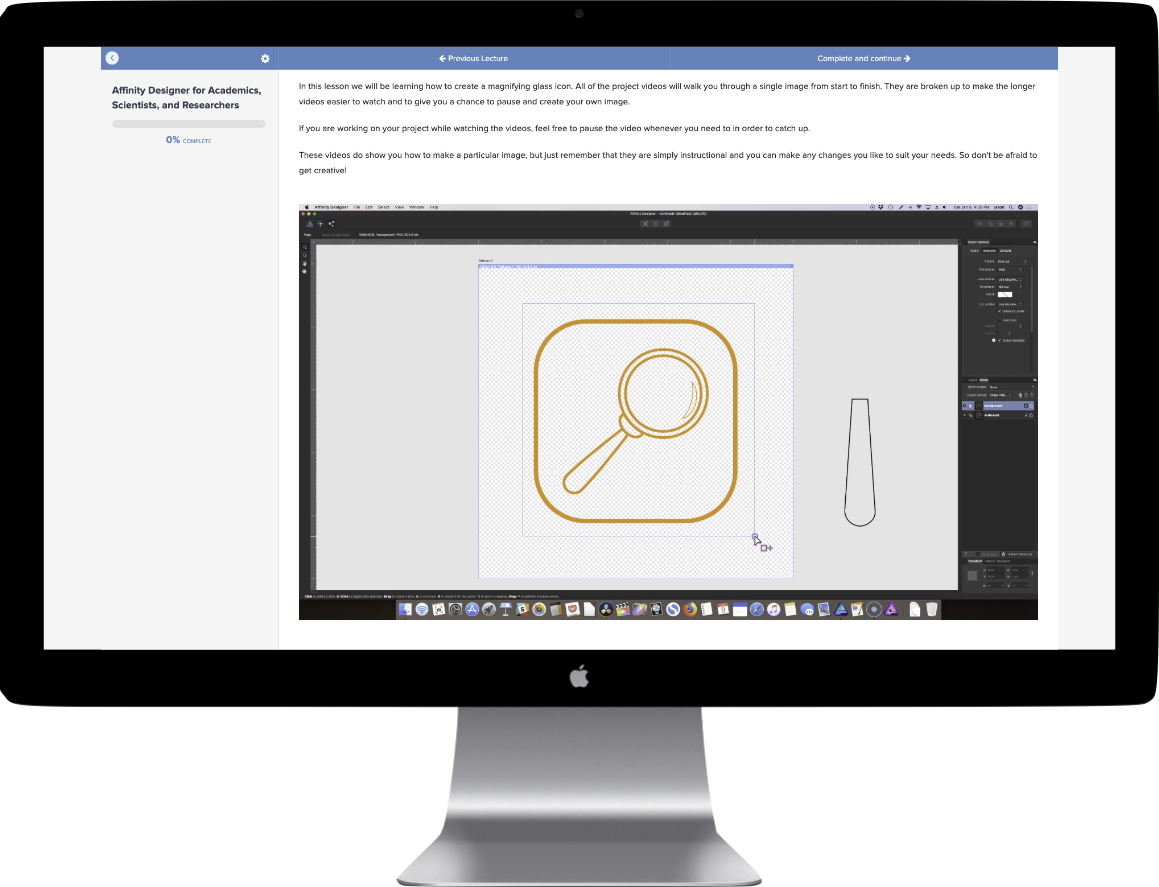 You will need to use Affinity Designer to take this course.
Our course shows you how to use independent third party software called Affinity Designer, which means you'll need to have Affinity Designer to take this course.
If you haven't heard, Affinity Designer is a professional design application used to create digital illustrations. After using Adobe Illustrator for a few years, we switched to Affinity Designer and LOVED it.

And we think you'll love it too. Compared to Illustrator, our opinion is that Affinity Designer is more:
Affordable (one-time price instead of a monthly fee for the rest of your life)
User friendly
While also being just as powerful, with the same features that we need as academics/scientists/researchers.
How much does it cost?
At the time of writing this, the regular price for Affinity Designer is $50 USD for Mac, $50 for Windows, or $20 for iPad. BUT...
Students in this course get a special offer: a 20% discount!
And that's not even just for one purchase, or for just for one app. Students can use it for any/all of their apps, multiple times! That's a potential savings of up to $68 USD if you were to buy all their apps over time!
And again -- Affinity Designer is NOT A MONTHLY SUBSCRIPTION SERVICE! It's a one-time price and you get critical updates for FREE. This was the main reason we switched from Illustrator.
We did the math and in TWO months you've already saved money by choosing Affinity Designer instead of Adobe Illustrator (based on the 2019 monthly fee for just Illustrator). In 12 months, you save $328 USD by choosing Affinity Designer.
In 2 years, you could save at least $706 USD by choosing Affinity Designer instead of Illustrator!
Saving money isn't worth it if you also have to sacrifice key features and functionality. But that's the best part! We both find Affinity Designer easier to use and just as powerful as Adobe.
Look, this is how fast it is to add a shape and change the color in Designer: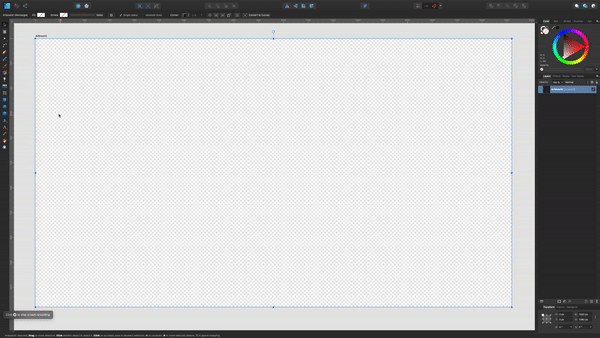 Your Instructor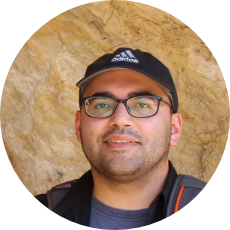 Hi, I'm Jason, the creator of Dark Mouse Designs. I specialize in graphic design and illustration. I started drawing when I was a little kid and have been interested in all kinds of art ever since. Along the way I earned a B.A. in political science, but decided to follow my true interests by pursuing a more artistic and creative path instead. Specifically, my goal is help people unlock their own creative and artistic side, and to create visuals and illustrations for their own work.
Frequently Asked Questions
When does the course start and finish?
The course starts now and never ends! It is a completely self-paced online course - you decide when you start and when you finish.
How long do I have access to the course?
After enrolling, you have unlimited access to this course for as long as the course is available and hosted by us. No monthly fees, no subscription. Whoo hoo!
What is the refund policy?
We worked hard to make this the type of course that shows you all the core features you need to create materials practical for you. We also worked hard to make the projects engaging, fun, and practical. If, however, (1) you are unsatisfied with our training style and find that you were unable to complete the activities, AND (2) you did NOT purchase Affinity Designer using our special discount code... then let us know within 3 weeks of your enrollment date and you'll receive a full refund.
Will I need to purchase Affinity Designer for the course?
You will need to use Affinity Designer for the course, and we recommend that you purchase it right away -- especially because students in this course receive a 20% discount on all Affinity apps (whoo hoo!). As a backup option, they do also offer a short free trial and you should be able to complete a project during that time.
Can I get a refund if I finish your course but decide I don't want to use Affinity Designer again?
We kindly ask that you do not request a refund in this case. If you complete the course, or most of the course -- especially the projects -- then that means you learned a lot of great technical AND graphic design skills. Plus, many of the techniques you learn in this course will help you use other professional design applications, like Inkscape and Adobe Illustrator, or will help you design better visuals in apps like PowerPoint, Canva, and more. That means you did learn transferrable skills along the way.
Who is this course for?
This course was SPECIFICALLY made for academics, scientists, researchers, evaluators, and similar professionals. You will learn the tools and techniques to help you create practical materials for your teaching and research communications work. This is NOT a course for those who want to be professional illustrators or digital artists.
Will you ever add new projects or updates to the course?
Updates to the technical lessons will be provided at NO COST. For example, if Affinity changes the way you add shapes or change their colors, we will update the lesson on how to do that with the new version. We may add more projects in the future which will be available for purchase as "expansion packs" to your course.