Are you an academic, scientist, evaluator, or researcher who wants to design better lectures, conferences, workshops, etc...but you:
Don't know where to start
Don't have a lot of time and you need help RIGHT NOW
Are overwhelmed with all the information online: what's good vs what's bad?
Don't have a lot of money to spend right now
Want to learn these strategies in your own home or office, at your own pace
If any of that sounds like you, then this Stellar Slides Training Pack is the perfect way for you to get started with creating more effective and better-designed presentations.

You'll get step-by-step presentation design guidance with the goodies in this Training Pack. You get:
The replay of my webinar, Quick Start Presentation Design Strategies that Grad Students Through PhDs Can Implement TODAY
The replay of my webinar, Dataviz Design for Grad Students & PhDs: Easy Presentation Strategies That Have a BIG IMPACT
Slide design style "template" (special bonus just for Starter Pack students)
An extended version of the Stellar Slides Starter Kit -- 2 bonus worksheets
My original email course: Countdown to Stellar Slides, the archived version with videos no longer available publicly!
My email course: Create Your Visual Database
Instant access to other downloads (e.g., for my YouTube videos)
Plus, you will automatically get the COUNTDOWN TO STELLAR SLIDES UPGRADE ($9 value)! This includes instant access to bonus videos about:
Why effective communication even matters
How to reduce the text on your slides
How to edit the Master Slides in PowerPoint (to create your own "template")
How to apply your new "template" to existing slides.
And more!
This is everything you get in this STELLAR TRAINING PACK: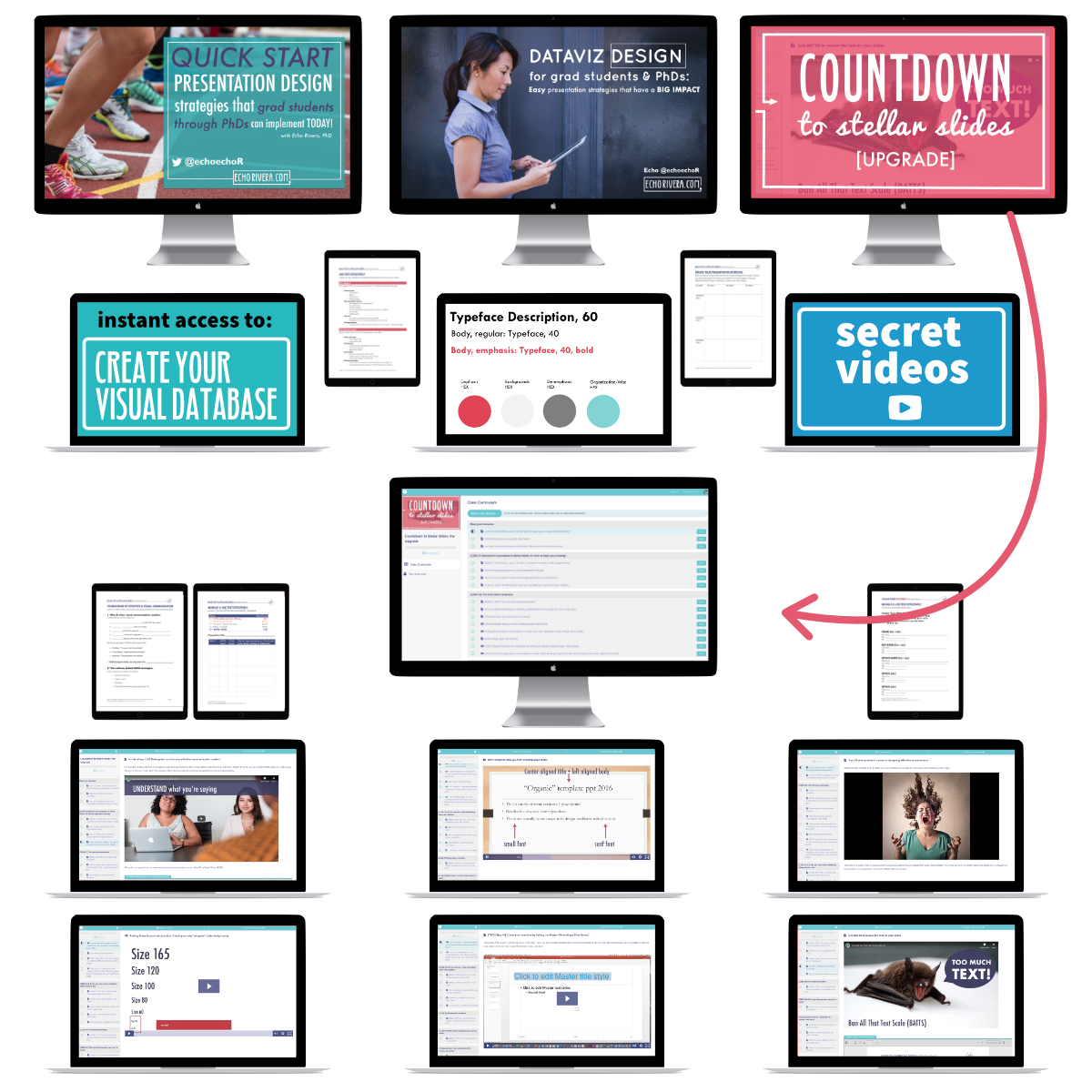 I host public webinars only a few times each year, but the replay never lasts more than 72 hours. Plus, these email courses are normally delivered one lesson each day, and become lost in your inbox over time. But with this starter pack, you get instant and lifetime access to these materials.
And by signing up for this Training Starter pack, you get a slide design style template that will never be available on my website.
With these materials, you will learn design and efficiency strategies like:
Some of the core strategies for decluttering and using modern design (e.g., NO TEMPLATES!)
How to create your own unique slide design style (or just use the one I give you!)
My top 10 tips for effective presentations
How to know when you have too much text on your slide
How to find visuals and organize them in a way so you can use them quickly
How to design and use data visualizations in your slides effectively
I've put together this pack so things like lack of time or not having a ton of money aren't barriers for creating better, well-designed presentations.